Guča
The festival in Guča was coming up soon. A lot of the people I met at the party in Sarajevo would be going there as well. I only heard about this festival last autumn when I saw the documentary Brasslands at the Three Rivers Film Festival and here I was ready to see it in person at the first available opportunity.
To Guča
But I still had a couple of stops to make on the way. My first stop was Višegrad. A lot of Ivo Andrić's stories are set there including his Nobel Prize winning novel "The Bridge On The Drina". I expected to find an old town but aside from the 16th century bridge there didn't seem to be anything old in it at all. Kusturica was building a Andrićgrad, a theme park. He will probably use it to film a version of "The Bridge On The Drina". This is the second town that Kusturica constructed. A few kilometers away there's Drvengrad that he used to film "Life Is A Miracle", now a tourist site in its own right.
Kusturica is also central in making Guča internationally known. He used the music of Goran Bregović, a Serbian trumpeter and band leader, in his films in the 90's and the French who love his films make up a large portion of the international guests at the festival. Goran Bregović for his part has headlined the festival several times.
Višegrad is in Republica Srpska and no buses go there from Sarajevo proper. I had to take a trolley to the edge of the city and walk over the invisible border to East Sarajevo in Republica Srpska. The buildings near this boundary bore many scars of the siege, sometimes whole chunks were missing from walls. Driving out of the city was like riding the edge of a bowl with the whole city under me.
When I showed up in Višegrad, well after dark, I had no place to stay. An internet search turned up nothing in town. That is why guides like Lonely Planet are still helpful, they list places that aren't listed in online booking websites. But I knew that many restaurants had rooms for rent above them. I found a few of these places in town but they were all booked up. I'm not sure whether it was the popularity of Andrićgrad or just people on the way to Guča, like me. Finally I found a motel on the edge of town.
I got out of town the next morning. My next stop was Užice. A couchsurfer was throwing a pre-Guča party at her house. I bought some party supplies and waited for evening to come. Citizens were filling big water bottles from a barrel in a city square. The city water supply was contaminated, like Toledo at the same time. The Volkswagens gave way to Yugos and the currency changed once again.
The Festival
I split a taxi to Guča with three others. I pre-arranged camping at the house of a local resident. I didn't have a tent, only a thin sheet of nylon that I wasn't sure how I would use. About fifty others would share the yard. The owner prepared a barrel of rakiya and it was freely available. On Saturday we were treated to a roast lamb and wedding cabbage since it was the tenth anniversary of the camp. Facilities were pretty basic – an outhouse with a hole in the ground and a barrel with a hose for a shower.
Bands swarmed all over the village. Some restaurants had their own in-house players. Other bands roamed around looking for groups of revelers who would drop bills into their horns. The noise never stopped. Some bars blasted Serbian dance pop at an incredible volume. Luckily my camp was far enough away from the town center that i did not hear it.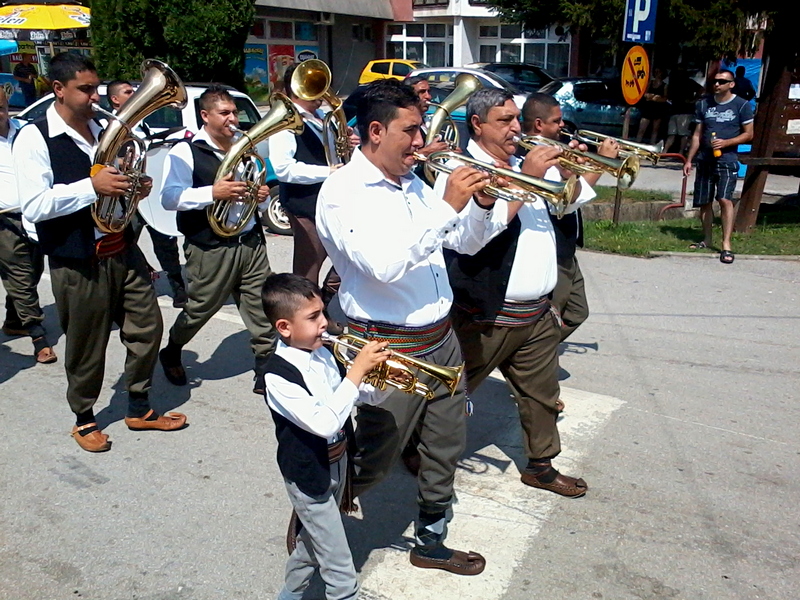 The stadium hosted concerts in the evening such as the main event – the competition for the best band and best trumpeter in Serbia. There was also an international competition. In the daytime there was a parade of all the bands through town. A young woman would carry a sign announcing the band's name and town of origin followed by the band itself dressed up in traditional costume – usually shoes with curled up toes, long wool sucks, a wide belt holding up khaki colored pants tucked into the socks and a white shirt. More than half the bands were Roma. The band had a trumpeter leader, a couple more supporting trumpters, some french horns and subas and a drummer or two with a big drum with a cymbal on top.
There was an alarming development at this 54th festival. Ceca was on the schedule. Ceca is a controversial figure. She was married to Arkan, a gangster who ran the Belgrade Red Star football team's Ultras and later committed war crimes as the leader of a paramilitary organisation. Her involvement is not clear but at the least she provided cover for him. She is also Serbia's biggest pop star and one of the most recognized faces in the turbo-folk genre. Naturally a lot of her songs are of a nationalist bent. The other problem was that for the first time admission was charged.
I snuck in through the VIP entrance more by accident than design. The crowd was mostly very young people which surprised me since many would have been born well after Ceca's career began. They knew every song and during each one there would be a break where Ceca would stop singing and let the audience fill in the lines.
I have no idea who won the national competition. We were too busy trying to do the kolo, the national dance where everyone goes in a circle holding hands. But the international competition was won by a band from Macedonia who totally deserved it in my uninformed opinion.
I wasn't sure how I was going to get out of Guča and decided to give hitchhiking a try. I stood there for an hour with no result whatsoever. Then a car pulled up and I saw a friend I made in the last few days. Since I didn't really care where I was going I asked if I could go with her to Novi Pazar.
Novi Pazar
Within a short distance of the city there are at least three monasteries dating to the XIIIth century. They were built by Serbian kings who as a rule would retire to become monks. This part of Serbia, from Užice south, seems to be where the medieval kindgom of the Serbs was centered, not the site of the present capital.
The city itself turned out to be 80% Muslim. They must take it very seriously as of the dozens of cafes and restaurans on the main pedestrian street only one seemed to have beer. Every town of at least moderate size in Yugoslavia has a main street closed to car traffic, with many cafes. There was a Turkish old town but it didn't seem to have anything interesting or even look Eastern.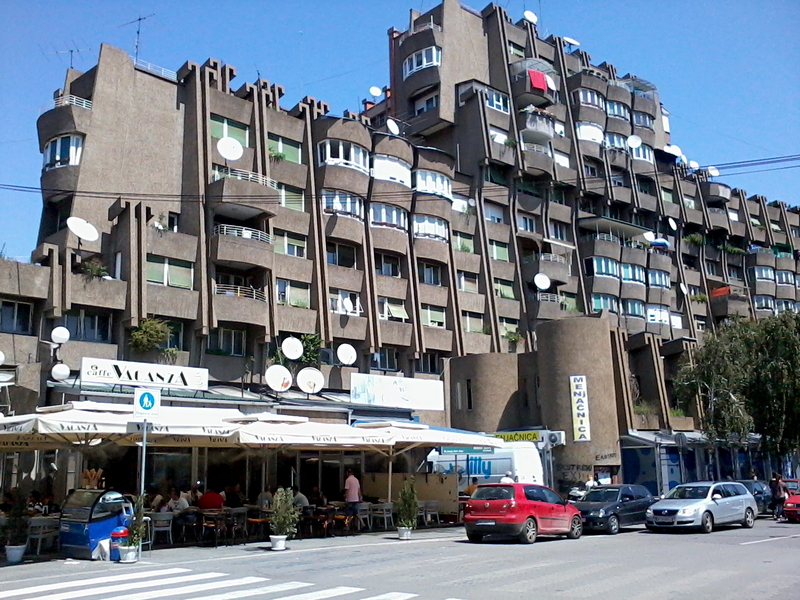 The city had some really far out communist era architecture. There was a strange abundance of cars with Luxembourg plates.
A big party was going on in my hotel. Kids gathered outside while adults in evening wear sat at white-clothed tables. There was a band playing Eastern melodies, it could have been Turkey or Syria, except there was an accordion player. Families were doing the kolo.
From Novi Pazar I wanted to go to Niš. But the bus I found on the somewhat unreliable online schedule did not show up. So I got on the next one which happened to be going to Skopje, Macedonia – a country I did not even plan to visit. I really enjoyed making a spontaneous decision like that.