Slovenia
I faced a choice about what to do with my bicycle. Guĉa is almost a thousand kilometers from Belluno and I would have to be there in less than three weeks. By my reckoning I would have no time to spend in Ljubljana or Belgrade. The same constraints applied to getting from Guĉa to the Dimensions festival, not all that far from Venice. So I left my bicycle at Marco's house with a plan to pick it up sometime in the fall.
Looking at a map I decided to make my first stop in Postojna, Slovenia. It was on the road to Ljubljana and was home to a big cave. Getting to Slovenia from Venice is a little tricky. There are few trains. The best option is to go to Trieste, on the border, and get on a bus.
Trieste has always been a major port and lay on an ancient road linking the Balkans to Italy. Because of its position on the border there are many visitors – backpackers trying to catch a bus to Eastern Europe or tourists from Croatian beaches in Italy for a day. I heard a lot of Russian speech. The town itself is very Austrian looking with several very large squares. There's also a Roman amphitheater.
I missed the last direct bus to Postojna but there was another bus to Koper, a beach town in Slovenia, from which I could take a connection. The border wasn't even a formality, I didn't notice it at all. Suddenly I was in a Slavic zone. I read every road sign relishing the familiar sounds. I wasn't sure how far knowledge of Russian would get me and I was curious to find out.
Right away I saw some new food – a bakery was selling apple filled pastries. I was happy to find the name was similar to the Russian. Once at the hotel, I found a list of survival phrases in Slovenian and was dismayed to find out that there were many completely different words, not to mention some of the grammar. So other than recognizing the occasional word I would be pretty helpless. Luckily, everyone in Slovenia speaks good English.
The town of Postojna is pretty small and it's only a ten minute walk from the center to its chief attraction – Postojnska Jama, the largest cave in Slovenia and possibly Europe. When I was at the tourist office they offered a combined ticket for the cave and Predjamski Grad, a castle built in the mouth of a different cave, and I took the deal. The castle was ten kilometres away but there's a free shuttle that runs between Postojnska Jama and the castle.

To get to the cave I had to traverse a large parking lot and then run the gauntlet of souvenir shops. There were many tourists from many different countries milling around waiting for their access time. When the time arrived they separated into four groups, by language – Slovenian, English, German and Italian. The English group was by far the largest. After entering the cave we boarded a little electric train like one sees at an amusement park. The ten minute ride took us several kilometres into the cave. I ducked my head instinctively many times because the walls seemed so close but really there's no danger of hitting one's head if one remains seated. One of the rooms we passed had a Slovenian flag and chandeliers. Perhaps it is used for ceremonies. Postojnska Jama is one of the national treasures and I saw advertisements for it as far as Zagreb.
After the ride we had an thirty minute guided tour through a few different chambers. The floor was paved and there were lamps on the floor for light. The old part of the cave, discovered in the 13th century is linked to the newer part by the Russian Bridge. So called because it was built by Russian prisoners of war during World War I. It was nice to see some stalagmites and such but I wish I did a little more research and went to a different cave. There are thousands of caves in Slovenia and though only about ten are open for visits, I think I could have found one less heavily altered. It was also rather expensive. And as big as it is, the US has a much larger cave system – Mammoth caves.
The Predjamski castle was more interesting. It was also full of visitors but it was well preserved and a few mannequins and some furniture was added to make it look inhabited. It had quite a complex floor plan with many different kinds of rooms and five floors. Several rooms used the natural rock as a wall and some hallways opened straight into the cave. There were some great views onto the valley. There's a story about a Robin Hood like figure who took refuge in the castle from the Austrian troops. He defied them for years and used a secret passage through the cave to get supplies from outside. He was betrayed by a servant who shined a light on an exposed outhouse while he was inside and the Austrian cannon blew the bandit to pieces.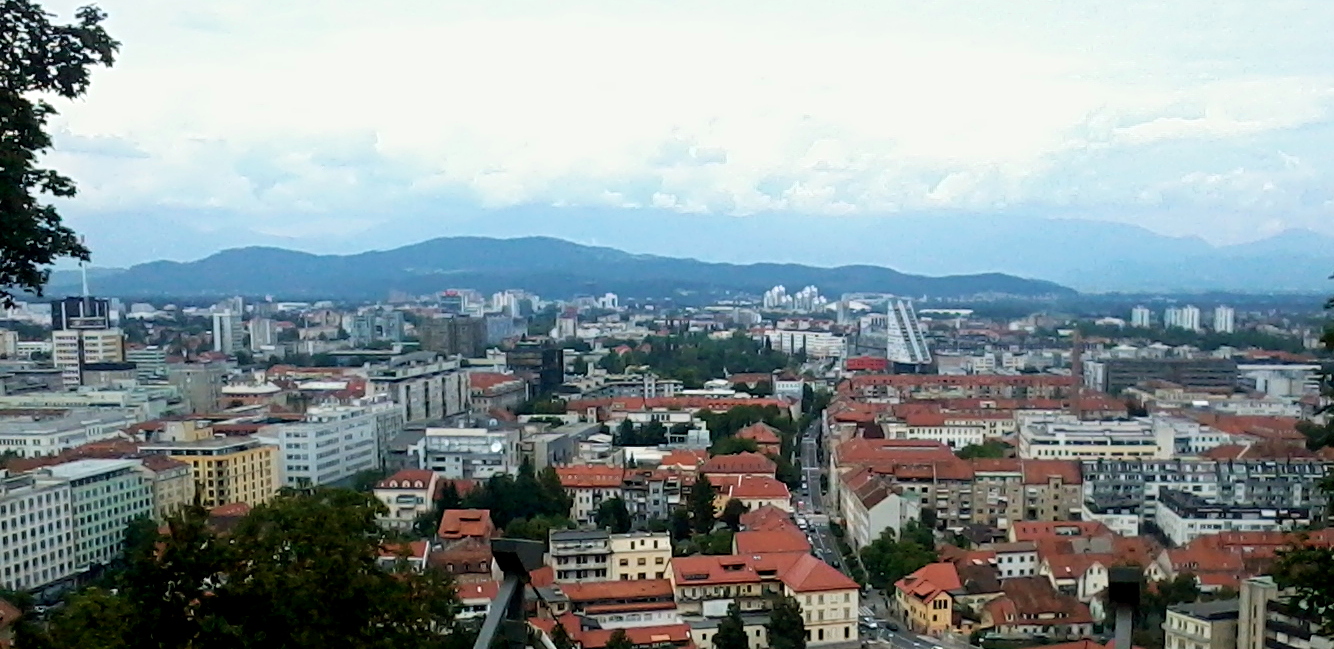 Ljubljana
I went to Ljubljana the next morning. I knew I wanted to spend some time there and booked a hostel for three nights. But I wound up extending for a night and could have spent more time there. It's not a big city – less than 300,000 inhabitants but it swells by an additional 70,000 during the school year as there is a big university. But despite the small size there's much to do. There are many cultural events, often free, sponsored by the city. The city is very international. At the food market every Friday there are about twenty booths representing different restaurants and almost any kind of cuisine you can think of is covered. I ran across many used book stores. The center is closed to car traffic, there are bike lanes everywhere and a city bike sharing program. There are many parks, trees cover many streets and a wide, calm river. It's really everything I could want from a city.
The old center is very charming. It runs along the river. There are several bridges spanning it – the famous triple bridge, the Dragon bridge and a new bridge with glass floor panels and love locks on its parapet. On one side of the river lie several big squares and the university while on the other side, squeezed in by a steep hill, there's a big central market where produce is sold and an ornately decorated Catholic cathedral. On top of the hill is an old castle. It was restored recently and it's an interesting mix of antique and modern. It's host to galleries, cafes and cultural events. A month long open sky film series started at the castle on the day I arrived but I never went due to rain.
If you follow along the quiet river to where the low rise buildings end, cut through the park surrounding a mid-20th century tower, go past a church and the ethnographic museum you arrive at Metelkovo. It's only a fifteen minute walk from the central square but it has a very different character. It's a former military prison that was abandoned after Slovenian independence and taken over by artists. The government tried to kick them out but they resisted and eventually Metelkovo's status was regularized. The prison was converted to a hostel and several galleries opened as well as a few bars/concert venues. It's still a little anarchic. About the only thing I knew about Ljubljana was that Slavoj Žižek is from there. I didn't meet any hardcore Marxists but I guess there are a few running around Metelkovo. In a way it's good to have a place for this kind of alternative culture to exist but at the same time you find yourself there every night and it starts to feel like a ghetto.
Usually we'd get beers (the local Union brand) from a store and drink them in the playground area in the middle. There are usually a few hundred people milling around, many of them wearing punk styles or metal band shirts and long hair, smoking, drinking and conversing. A band could be playing on the steps of Yalla Yalla, one of the bars. Ljubljana is definitely more into rock than dance music. I never stayed past 3am but there were still many people there at that time.
I came to Metelkovo in the daytime to get a tour of the Celica hostel there. Each prison cell was redesigned by a different artist and has a different layout, look and furniture. I only saw a few rooms because the rest were occupied by guests. On the bottom floor there's a cafe and a meditation room meant to bring together religions that are so often in conflict, especially in the Balkans. In the basement the isolation cells are kept as they were and it's a spooky experience to go in there and turn off the flashlight.
I found another abandoned place – a big bicycle factory turned artist squat. Unlike Metelkovo it is just artist studios with only occasional events held there. I went in the daytime and climbed onto the roof and got a good view of Ljubljana. Though there are many broken windows on the outside, the inside is kept pretty clean though chaotic.
When I wasn't hanging out in Metelkovo I rode around on a bike. I visited all five of the city's record stores but they really weren't anything special and I couldn't even find fliers for events there. On my last day I went pretty far away from the center to visit a Bosnian restaurant. I'm not sure what traditional Slovenian food was like but I was eager to taste some Yugoslavian dishes. The city changes very quickly once a little out of the center and becomes more like an ordinary Eastern European kind of place with big concrete towers set among trees, wide roads and lots of open space. There were some vegetable plots within city limits. At the restaurant I had ĉevapi – a kind of kebab. In Bosnia, its home, it's only made from lamb. Though it has spread to other neighboring countries where it can be made with pork or veal.
A strong rainstorm started after I finished my meal and I stopped at a bakery next door to pass the time. It was run by a Kosovan who spoke good English. He was at least a third generation baker. He was unimpressed with Slovenians and claimed they drink a lot, eat too much pork and don't work enough. They weren't friendly to him and he was happy to have a fellow Muslim next door.
The city felt like a model city – small, tidy and well organized though with a pink streak in its hair.