Bicycling in Northern Italy Part I
Lombardia
I was able to arrange a couchsurf in Milan. Unfortunately when I turned up I found out that my host's boyfriend was sick and so I would be on my own for the whole time. She gave me the keys and left. The apartment was small but stylish. It looked out on a beautiful courtyard and was located in Chinatown. Chinatown in Milan is probably about the same size as in New York though not as dense or busy. I had a superb lunch in one of the restaurants. Especially the wonton soup blew me away – not just a couple of rough dough dumplings in a broth, it had vegetables, mushrooms and the dough melted on your tongue.
Long before beginning my trip I got an idea of bicycling from Milan to Venice. I made it based on no information whatsoever – just two big cities relatively close to each other. From conversations I learned that it is a pretty easy trip because it mostly lies along the Po valley – one of the only flat areas in Italy. On my second day in Milan I went out in search of a bicycle. Yelp helped me a lot in making a list of stores I could visit. The third store I went to had a used bicycle and it was perfect – a hybrid road/trekking Bianchi for only 200 euro. The other stores only could sell me new bicycles and most of the ones on offer were city bikes. I bought a few other necessities: pannier bags, a helmet, a lock and a rack for the back of the bicycle. All together it was still below 300 euro.
The next day I wheeled around the old city in Milan, getting used to the bicycle and enjoying my new mobility. The old city has some humongous old buildings: a very spiky, gothic Duomo surrounded by a 19th century shopping arcade; a Sforza castle with thick towers and a dried out moat. But a little bit further away steel and glass skyscrapers begin.
It rained most of the time I was there. I prefer visiting big cities in rainy weather. It shows their serious face.
Ever since Rome I've been eating ice cream every day. I've picked up ice cream Italian – I can ask for two flavors, a cup or cone, ask to sample and so on. Of course ice cream in Italy is one of the best things about the country and most cafes offer at least a dozen flavors with two dozen being more common, about half of them fruity.
I started reading the Autobiography of Benvenuto Cellini. It's regarded as one of the best autobiographies of all time but more to the point it takes place in Rome, Florence, Mantua and other Italian cities I visited or will visit at the time of their greatest flowering – the mid-16th century.
After visiting the old center I packed my bags, strapped them to the bike and set off to the first stop on my bike journey. It took me a few days to figure out how best to carry the bags. That first day I carried the backpack on my shoulders with all the heavy things offloaded to the pannier bags. However, after a couple of hours my shoulders hurt too much and I realised I couldn't carry on like that. I found that I could strap the backpack lengthwise on the rack but it took me a few days to learn to do it quickly and without it falling off after every bump.
My first stop was Pavia. There's a very easy to follow paved trail from near the center of Milan all the way to Pavia. It's a pretty big town with lots of old buildings. Though that's not saying much. Every town I passed through had at least a few buildings from Medieval times or the Renaissance. But the old center of Pavia impressed me with its size. It could probably rival Florence in size if not magnificence. I didn't see much of it, I only spent the night there and left in the morning.
Since I wouldn't be staying in big cities or popular backpacker destinations I wouldn't always find hostels. So I had to stay in many bed & breakfasts along the way. They are about 50% more expensive than hostels but still cheaper than hotels and much nicer. Most are very friendly and helpful. But more on that later.
After Pavia I was supposed to be on the Ciclovia del Po. This is one of the main bike trails in Italy and it is part of the European wide bicycle network. The trail was supposed to carry me to Ferrara, on the Adriatic coast from where it's a one or two day trip to Venice. However I soon found that this wasn't workable. For one thing the trail isn't well marked so I lost it right away or possibly wasn't even on it. I tried to regain it later but lost it after a few kilometers once again. In addition, the bike trail is much less direct than the road so it adds needless kilometers and it's not a good surface since it has portions that are gravel and other parts follow the road but are interrupted so you either get on and off the road anyway or ride over bumps. I didn't have a map and relied on Open Cycle Map that I would load in my browser before beginning each day. Open Cycle Map isn't always accurate as I found out and since I didn't have wifi once I was on the road I couldn't always zoom in/out or scroll, I was at the mercy of my browser's cache.
So midway through the second day I chucked out the idea of taking the bike trail and though I was to give a few other tries it just never worked out. I stuck to automobile roads which were always well-signed and had a good surface. Sometimes I found myself on busy roads with no shoulder but even that was preferrable to the bike trail situation. Once, I came to a fork, took the wrong way because it led me to the wrong side of the river, turned around and ran into a group of German cyclists with a map who weren't sure which way to go. I told them to take the other way and we still missed the path again and had to scramble up a steep embankment to get back on it. Because my bag kept falling off I soon lost them. So it was that two hours later after having lunch in a village and getting out my laptop to find my bearings I saw that I was a few kilometers along the road going in a totally different direction than I wanted to go. After that I started writing down the names of villages I was supposed to path through on a sheet of paper and using road signs to find my way.
My second stop was in a small village near Piacenza. There's a piligrimage trail, Via Francigena, that goes through there and all the way to Rome, so there is a hostel. Piligrimage trails are interesting because we don't have them in America but many who travel them are not religious and are just doing it for historical interest or because of their natural beauty combined with presence of facilities. Another popular trail is El Camino de Santiago that starts just over the Spanish border in France and goes through northern Spain all the way to the Atlantic coast. I crossed it on my little hike in San Sebastian.
I quickly went through Piacenza and didn't do any sightseeing there. My path laid along fields of corn and wheat. A lot of the traffic was trucks. Some distance from Piacenza, by a field, I saw some African women sitting on fold-up chairs under the sun. It's not hard to figure out what they are doing there, I was just a little surprised at the location. Sometimes a pig truck would pass and leave a stink for a minute after. I thought I could smell that noxious odor on the breeze every now and then all the way to Verona. The villages I passed were deserted of people except a few old guys playing cards in a bar on the main piazza. Once I saw two young guys in standard American bro wear – one on a skateboard, the other on a bicycle slowly dragging his friend along in the heat. I thought about the absolute boredom of this place.
That day I stopped in Sabbionetta a tiny little town still mostly inside the city wall. It turned out to be on the World Heritage List as an example of Renaissance town planning. These World Heritage siets were everywhere but Italy has more of them than any country. The town was built by the Gonzaga family, the dukes who ruled Mantova. I spent about an hour walking along it's cobblestoned streets from one gate to another.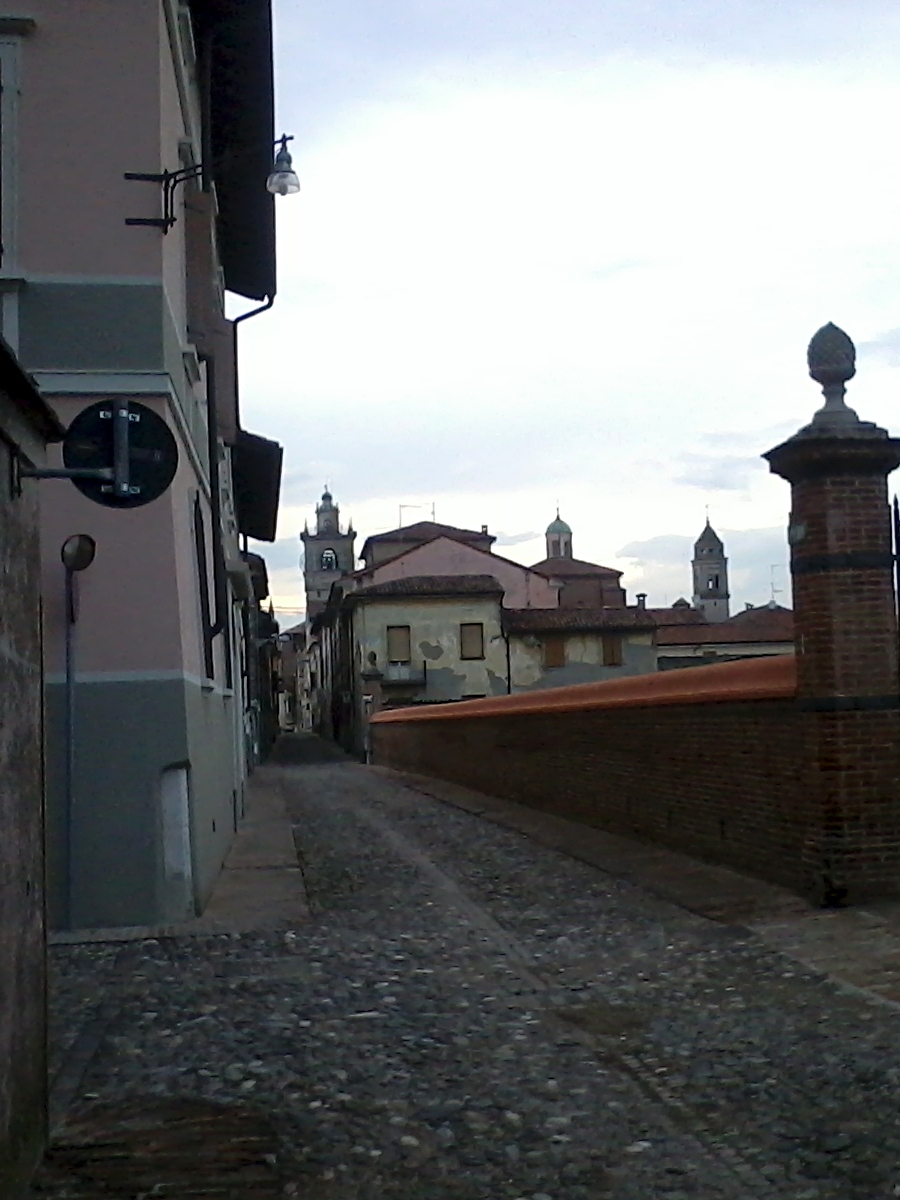 The next day it rained. It would rain every day for the rest of my bicycle journey. But it was only for a few hours each day. So sometimes I would get lucky and avoid the rain entirely. Other times I would get completely drenched but dry off in the fierce sun. I never woke up early enough to leave in the morning and biked through the hottest part of the day. Even if I did leave in the morning thus getting to my destination in the early afternoon, it would have been useless because I couldn't check-in to where I was staying until later.
After Sabionetta I came to a village just outside Mantova. The hostel there was a little strange – it was in a little complex in the park that along with the hostel had the town's library and a bar and was used by locals for hanging out. I took a break here and went to Mantova on the second day. It is also where I saw Brazil's historic demolition at the hands of Germany. I couldn't really share my emotions since the old men watching it with me didn't speak English.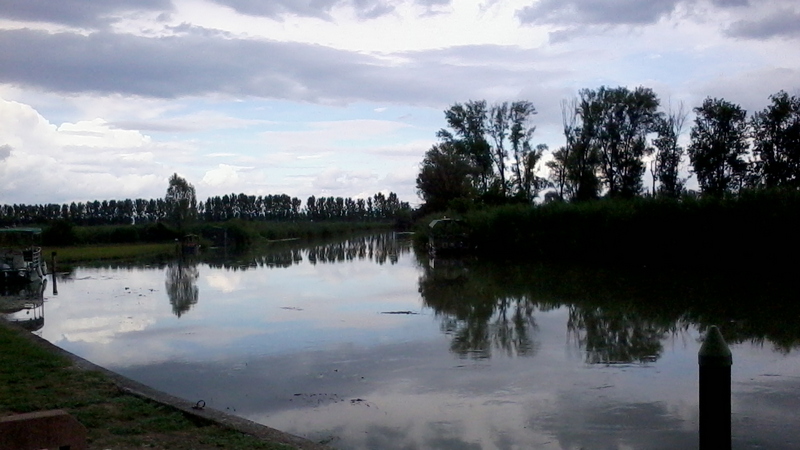 I liked Mantova a lot. The Ducal Palace is especially impressive. It's a large building started as a fortress in the 14th century and continuously expanded and remodeled until the 18th century. So it has parts from every architectural era in that period and takes up a lot of space. The fortress looks especially impressive and solid and it has a functioning moat. There's a museum in the palace but the ticket only allows you to visit no more than half of the buildings. The palace is full of art. Unlike most big museums in America most of the paintings were created by Mantovans for the Gonzaga family, so they never left the palace. There's something cool about that. Also, it was inhabited so it has windows. It was so nice to hear the drizzle and feel the fresh breeze in these giant stone halls and see the paintings under natural light. The emblem of the house of Gonzaga is a crucible by try telling me it's not a jellyfish.
I ran into the Germany bicyclists again in Mantova. AFter Mantova I had a choice to make – keep going along the Po to Ferrara or turn north toward Verona. I chose the latter. I got in touch with Marco whom I met in Morocco. He lived north of Venice and since I had still so much time until Redentore I decided to visit Marco first.
Though the bicycle was nicer than the train for sightseeing since I always seem to fall asleep on the train, it wasn't as good as a scooter. I wasn't sitting as upright and the scenery changes a little too slowly. Though that could also be the due to the location. There's really not much to look at in the countryside along the Po river.
Veneto
As I got closer to Verona, the crops changed. Instead of grains I saw many orchards with apples, plums and peaches. Passing by a fragrant plum orchard it was hard to resist the temptation to pluck one. Near Verona is where I got my first glimse of a mountain and had to do my first climbing. Verona despite not being a big city has a lot of suburbs and heavy traffic all around. I started seeing more bicyclists on the road.
I did not stay in Verona but just outside. A pair of Danish siblings were staying in the same bed & breakfast and we had a conversation during which they destroyed the stereotype of reserved Danes. I booked ahead for my stay in Vicenza so I couldn't stay in Verona and so I only was there for a few hours. The cty centre was chock full of tourists and it was difficult to leave my things. I saw the big Roman amphitheater a few piazzas and walked the streets. There were many stores selling designer goods so it was hard to tell the sightseers from the shoppers. I had lunch at an Indian restaurant remarkable only for how little chili the dish I got contained even though it was marked spicy on the menu. I realised that I didn't have any spicy thing at all since landing in Italy and this was to continue.
Useful Resources