Into The Mountains
Once in Marrakesh, I tried to follow the map I drew for myself and immediately got lost. Nowhere does the gap between the map and the territory yawn wider than in the medinas of Morocco. I ignored the boys claiming the street I was going led to nowhere or the exit, asked directions from storekeepers and through a combination of luck and directional sense got really close to my hostel. However, in the end a storekeeper just told me to follow the young man whose offer of directions I just refused and after a two minute walk we got back to the alley I passed. Joined by a friend they made vague threats and demanded more than mere coins but I firmly refused.
The hostel was stuffy, hot and cramped. Luckily I was there for only one night. I left right away to experience the incomparable Jemaa El Fna. Imagine something like Artscape in Baltimore except it's just an ordinary Wednesday night. I took along 50 dirham and resolved to try everything while the money lasted. I wandered the square, had some fresh pressed orange juice and a bowl of snails from the vendors arranged in neat rows by type of product they are offering. I tipped street musicians and sat on the benches around them and clapped along. One of the bands featured "the berber Michael Jackson", really a guy in a shiny grey suite who stepped along with the music shrugging his shoulders and flicking his fingers. The bands often took breaks to tell stories or interact with the audience and I wished I understood Arabic or had a friend to translate. I had some sweets together with very strongly spiced tea (cinnamon? nutmeg? I don't know but it was a reddish brown and burned). After I returned the glass the vendor started pouring more and I refused initially but then he added a few specks of white from a glass and I decided to try it. Tears immediately streamed down my face as I breathed in the concoction. He said it was mint but I think it was eucaliptus. It smelled like cold medicine and I had to hold my breath to have any hope of downing it. By 11pm my money ran out and I headed back to the hostel using belly dancers, a beggar and a minaret as my landmarks.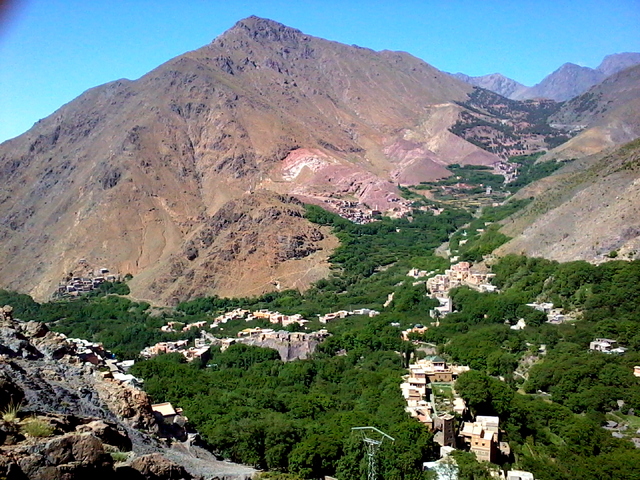 The next morning I took taxis to Imlil, the starting point for most trekkers into the High Atlas. Soon after me another taxi pulled up and a tourist got out. This was Marco from Italy and we became companions for the next two days. He was from the Dolomite mountains and his experience and preparation – he had a print out with directions for ascending Mount Toubkal – proved very helpful. We found a cheap guesthouse, had dinner and whiled away the day. I picked up a turban and he got some ski poles. We got lost on the village dirt roads illuminated only by the half-moon after we ventured out for cigarettes. I did not know this at the time and only picked up this tip after I got down from the mountain but cigarettes make very good trade items / tips for villagers here.
Early the next morning we started our walk to the refuge. It was an ascent of about 1400 meters and we made it in about three and a half hours, dodging constant mule traffic. There are no roads past Amroud – a village just up from Imlil – only rocky paths. At the refuge we had nothing to do but sleep, play Chinese Checkers and look at the gorgeous view. It was windy and people who made the ascent that day had to wear three layers plus a sweater under their wind jackets. There were many large groups, especially Poles. We talked to a few other trekkers at dinner and enviously eyed the bottle of Irish whiskey passed around by the group from the eponymous country.
Sleep was next to impossible. I found that in any group of six or more there is at least one snorer. But in addition, the Poles in our room would not stop talking all night and a couple people left to sleep outside. We left at 7am. We had great luck with the weather. The air was practically still. I put on three shirts and my wind jacket, wrapped my head in the turban I acquired yesterday and that served me just fine. Though sometimes I ran out of breath I found that small but steady steps will get you there and we passed several groups. The way to the top was pretty easy to pick out and one could almost always see at least a few hikers somewhere ahead, so a guide is not really necessary at least in this season. At about 10am we made the summit at 4167 meters. I think that is the highest I've ever been in my life. Tired but happy we spent an hour on the sunny top of the mountain envying the crows who had such an easy time of getting up there. I find this hard to believe but apparently there's a five day ultra-marathon (150 km or so) that finishes at the summit.
Then came the descent. We took a different way down and passed the remains of a wrecked airplane. Going down the skree turned out to be harder or definitely more unpleasant that going up. I parted with Marco not far from the refuge. He would be going on to visit a lake the next day and I was going the opposite way back to Imlil. We exchanged contact information and I told him I'll let him know when I find myself near Venice. It took me until half past four to stumble back to the village and retrieve the things I left behind to lighten my load. I stayed another night at the same guesthouse.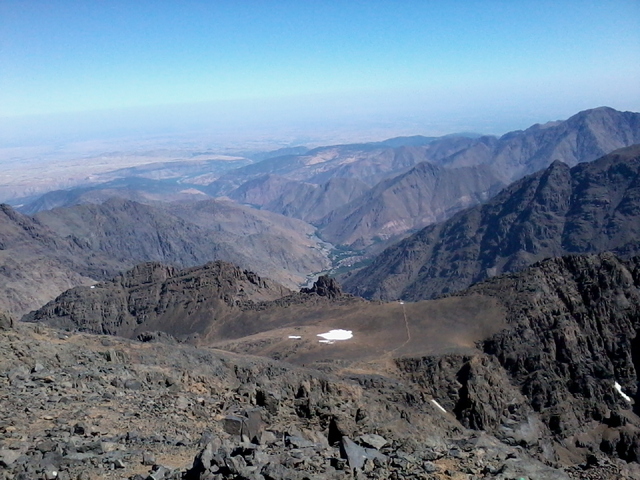 When I asked to use wifi I was taken to another house in the next village. I want to note here that when Berbers shake hands they touch their heart afterward. The keeper there asked me what I do, maybe seeing my laptop. And when I told him I do websites he asked me to do his. This seemed like an interesting opportunity. Before I started my trip I wondered if I could use my skills somewhere along the way. So the next day I came over in the morning and got started. It was nice to stretch my skills a bit. I used a modern HTML 5 template with a CSS grid layout. Getting content was a problem with the language barrier. In return I got free room and board. The meals were big and tasty and when I asked for some cherries, they grow around the village, I was brought some.
I had a bit of a scare when a recent TripAdvisor review claimed there were bed bugs in the room I was sleeping in. After carefully examining the mattress and room I didn't find any traces. But I still had trouble sleeping. The next day I didn't feel any bites so I think either the review was false or they fixed the problem.
I walked around the village and it's surroundings for a bit. But the the kids I ran into kept pointing me back to my guesthouse. I don't know if they were trying to be helpful or just didn't like me poking around. One pointed back toward where I came from and said "Mzik". It was only later I realised that was the name of my village. But I spent most of the time staring at the screen. I felt bad about it because here I was in one of the most beautiful places I've seen thus far. But what can you do with a view? You can't consume it by staring at it. Do you become more like the mountain the more you look at it?
On the second day I finished up most of the content and I wanted to move on. I suppose I could have stayed another night but I was impatient. I took the taxi to Marrakesh and a train from there to Tangier. The train station in Marrakesh looked amazing – a clean, spacious marble building in the shape of a cube made to look like a gateway. The train was really cheap (about 45 for a bunk in a four person sleeper car for an 11 hour ride) and clean and comfortable.
I didn't spend time in Tangier. As the city was waking up I walked over to the ferry and soon left Morocco behind.
On the way to Marrakesh I saw lots of places selling argan oil. This is a new food craze in the West right now. It's an oil made from nuts here, very expensive in the West. It's supposed to taste better than olive oil and be healthier. I wish I had time to buy some.